24-Hr. Staffed FBO Services in Toledo
As a company that has operated jet and piston aircraft for several years, we know FBOs. We've seen the good and the bad – now we want to show you the best.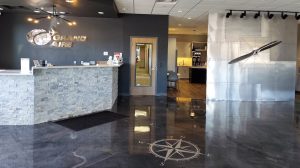 Grand Aire is a member of the Corporate Aircraft Association (CAA), and we operate the only staffed 24/7 full-service FBO on the field! Whether you're flying a heavy jet or a single engine, we're happy to serve your needs however we can. Please call ahead for any available discounts.
Visiting Grand Aire? Please take a moment and complete this Inbound Aircraft Form.
Amenities
As a Full-Service FBO, Grand Aire is pleased to offer a variety of amenities for you to enjoy.
WSI
Executive Conference Rooms
Crew lounge/crew rest area
Flight planning/weather center
Crew cars
Hotel and rental car discounts
7 acres of ramp space
Heated High Tail Hangars
Aircraft and Passenger Services
Service is our priority. With our extensive list of Aircraft and Passenger Services available, we are sure we can accommodate your needs, 24/7/365. Please let us know how we can help!
Red carpet service
GPU
Air Start
De-icing up to 55ft.
Interior aircraft cleaning
Lav service
Customs arrangements
Aircraft catering
Fueling
We are happy to offer fueling services to our FBO customers and follow the ATA.103 fueling standards. No matter what size aircraft you are operating, we have you covered!
AVfuel / Avtrip
100LL/Jet A/Jet A with Prist
CAA Preferred location
Independent fuel contracts
Cargo Handling
Capability to service any aircraft type for load/unload
Forklifts available
Belt-loader and baggage carts available
Cross-docking services
Warehouse scale
Temporary warehousing available
---
Click to view our FBO brochure.
If you are looking for dependable and professional 24-hour FBO services in Swanton, OH, contact Grand Aire today. Call 800-704-7263 to schedule your flight. Payments accepted include; VISA, Discover, Mastercard, AMEX, and cash.