Grand Aire Is Now GSA Certified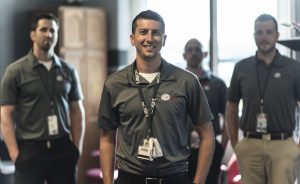 Grand Aire is a GSA (General Services Administration) Certified company.  With over 30 years of experience in the air charter world, we're able to apply this same type of knowledge and expertise to provide services for the US Government, just the same.  Grand Aire is also the current sub-contractor for all fueling for any type of government aircraft that may land at Toledo Express Airport.
Air Charters
At Grand Aire, we utilize a variety of chartered aircraft to handle government charters. Our most popular flight options include twin-engines, turbo props, light jets, mid-size jets, airliners, and executively-configured seating arrangements available.
Whatever the reason for your organization's upcoming trip, Grand Aire has the experience and tools to tackle the job. In fact, we are one of only a very few privately owned air charter operations in the United States. We have cornered the market on air charters, and maintain our reputation by providing efficient services for all government-related projects. We understand that any government entity working within the United States requires prompt, timely service.
Air Freight
Whether you're shipping tons of cargo or a small (but important) package, you can count on Grand Aire. We're the air charter service that gets you quick service across the country. Grand Aire provides comprehensive air freight forwarding services. Some of our features include:
1-4 day deferred air service
Next flight out
Delivery to any location in the United States
International import and export
Indirect air carrier
IATA Certified
We believe that our clients deserve the very best, and we aim to deliver exactly that. Our commitment to quality applies to each flight we take.
481112 – Scheduled Freight Air Transportation
488510 – Freight Transportation Arrangement
541614 – Process, Physical Distribution, and Logistics Consulting Services
Other Codes
DUNS – 01 911 9531
DOT – 704817
SCAC – GAIP
MC# – 691093
UEI – EBAVTJYDH2M6
Downloadable Items
Contact Us
To schedule an air charter or air freight service, contact Grand Aire by calling 800-704-7263. Our experienced charter representatives are awaiting your phone call today. We would love to answer any questions!