Quality Air Charter Service Providers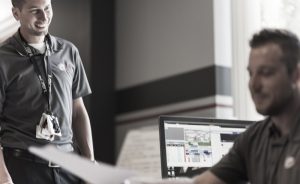 Grand Aire is a leading provider of on-demand cargo, freight, medical, and passenger air charter service. With over 30 years of experience, our committed logistics experts provide unparalleled services 24/7/365. As a matter of fact, we are recognized as a leader in the air charter industry as one of the Top 5 Air Charter providers in North America, by Inc Magazine. As well as also receiving the USPAACC/Wells Fargo Asian Business Leadership Award.
We are a team with comprehensive training to ensure we are prepared to quickly evaluate your needs and provide the best solution to your aircraft charter request. Our proprietary V.A.L. (Visual Aircraft Locator) system locates all available planes within our 3,000 aircraft network within seconds of your call. The aircraft we charter includes twin engines, turboprops, light jets, mid-size jets, heavy jets, airliners, and first-class airliners.
We are one of the very few privately-held, service-disabled veteran-owned (SDVOSB), minority-owned (MBE) small business air charter managers operating in the United States.
If you want to learn more, you can download our Cargo Brochure, Passenger Charter Brochure, Air Freight Brochure, and Medical Charter Brochure.
Cargo Air Charter Service
If you're looking for cargo air charter services then look no further. We have the size, infrastructure, and experience needed with a full range of cargo aircraft, from small jets for urgent packages to large freighters for large cargo. Even better, with our real-time flight following, you'll always know where your cargo is. 
Dedicated 24/7/365
Quick Reliable Quotes
Scheduled Chartered Freight Air Transportation
Nonscheduled Chartered Freight Air Transportation
Constant Communication – Trip Tracker
Your preferred method of communication (text, email, etc)
Real-Time Flight Following
OSHA Trained
ISO 9001 Compliant
TSA Certified IAC (Indirect Air Carrier)
On-Time
No Invoicing Surprises
Door-to-Door
Passenger Air Charter Service
Our signature passenger air charter services provide personalized options to cater to all of your needs. We go the extra mile with our optional in-flight amenities and concierge services. Moreover, our scheduled and non-scheduled transportation can be utilized for executive, corporate, personal, and even group travel. If you're looking for a private jet charter experience, give us a call.
Your Preferred Timetable
Dedicated 24/7/365
Scheduled Passenger Air Transportation
Nonscheduled Chartered Passenger Air Transportation
Your preferred method of communication (text, email, etc)
Wyvern & ARGUS Gold Operators
Large Operator Base
ISO 9001 Certified
OSHA Trained
Quick Reliable Quotes
Constant Communication with Trip Tracker
Air Freight Services
We provide the highest quality domestic and international air freight services around. Together with our internal expertise and relationships with major air carriers are unparalleled and give us a distinct advantage. There are no limits! That's right, we have no size, weight, or schedule limitations. Some of our services include: 
Next Flight Out
Door-to-Door, Counter-to-Counter, and Airport-to-Airport
Communication During All Points of the Trip
Next-Day or Second / Third Day Specified Time
Domestic and International Export Services
Delivery to Any Point in the U.S.A.
International Export and Import
1-4 Day Deferred Air Service
Indirect Air Carrier (IAC)
Constant Communication with Trip Tracker
Your preferred method of communication (text, email, etc)
Medical Air Charters
We understand the importance of quick, dependable, medical air charter services. Whether you need to move staff, organs, supplies, or something else, we've got the experience needed to get it done. Our planes are ready for take-off in record time because every second counts. Here is a little of what you can expect from our medical charter services:
ARGUS Gold Operators
Wyvern Rated Operators
Organ Transport
Prescription Transport
Surgical Team Transport
Scheduled Aircraft Charters
Nonscheduled Air Charters
Constant Communication with Trip Tracker
Your preferred method of communication (text, email, etc)
Doing Business with the Government
We are proud to be a part of 'GSA Advantage!' and on the GSA Schedule. Click to view our Capability Statement.
NAICS Codes:
481112
481111
481211
481212
481219
484110
488119
488190
492110
424720
SCAC Code:
GAIP
Cage Code:
56QR3