What is Next Flight Out Shipping?
Next day delivery not fast enough?  When crucial cargo needs to be delivered as soon as possible, Next Flight Out shipping is most likely the best option.  As its name implies, Next Flight Out (or NFO) shipping involves the transportation of cargo on the next viable outbound flight. 
NFO is significantly faster than shipping via truck or other standard shipping options.  This is because cargo will be carried to its intended destination on a commercial airline.        
How Does Next Flight Out Shipping Work?
Once a request for NFO shipping is received here at Grand Aire, our Logistics Specialists immediately begin searching for the fastest route for delivery.  This starts with locating the airport nearest to the origin of the shipment and the one closest to the cargo's destination. 
Next, utilizing our extensive network of aircraft connections, the most feasible departing and arriving flight at each airport is pinpointed.  Many times, a series of flights are used for final delivery of the cargo.  In some cases, utilizing a more direct flight, even though plane departure is a bit later, can actually save time in the end.       
Once space has been secured on the NFO aircraft, arrangements are made for the freight to be picked up from the customer's designated location and delivered to the departure airport.  Likewise, at the destination airport, transportation is secured to deliver the freight to the intended recipient's location.    
Next Flight Out Shipping with On-Board Courier
If it's a single package or perhaps an envelope of important documents that must be delivered same day, Grand Aire offers Hand Carry Service as a possible option.  With Hand Carry Service, an individual, or on-board courier (OBC) personally carries the package/documents with them onto the NFO plane.  Once they've landed at the destination airport, they personally deliver the shipment to the recipient or their agent.
One advantage of Hand Carry Service is the high level of security and reliability it offers.  Shipments are guaranteed not to be lost or mishandled since it never leaves the hands of the OBC until it is delivered.
Alternative to Next Flight Out
For time-sensitive shipments that need to be delivered quickly, but not as crucial as NFO, Air Charter may be the answer.  With this shipping alternative,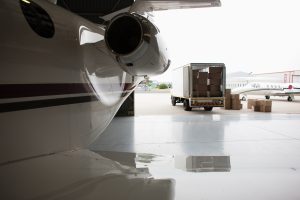 a private rather than commercial airplane is obtained to transport cargo from its point of departure to the final destination.  Freight on board a chartered plane belongs to only one customer.  The cargo space is not shared. 
Securing a charter plane may take a little more time than NFO, but it is still faster than shipping by boat or truck.  And like NFO service, our team provides door-to-door support.
Shipping with Experience
Grand Aire has been a leading air service provider for over 35 years.  No matter what the time constraint may be, our dedicated team is available 24/7/365 and ready to find a transportation solution to meet your needs.   
Whether NFO or Air Charter, let us put our experience to work for you.  Contact us at 1-800-70-GRAND or email or team at logistics@grandaire.com.