Welcome to Grand Aire's NEW FBO!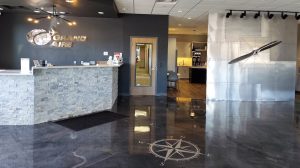 In August 2022, the amazing transformation of Grand Aire's FBO facility began.  Today, it is hardly recognizable to previous visitors, as the original space has been expanded and all areas entirely remodeled.  While the project was quite extensive and time consuming, guests and Grand Aire employees all agree, it was completely worth it.   
What's an FBO anyway?
An FBO, which stands for Fixed Base Operation, is a well-known term among airport employees, pilots and private plane passengers.  To the public, however, it is an unfamiliar acronym.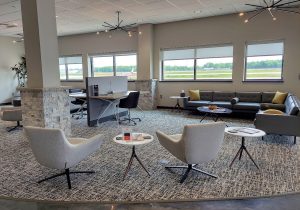 Simply stated, an FBO is a business that operates independently, but on location at an airport and provides aviation services to non-commercial pilots and travelers alike. 
Back in the 1900's when planes began to fly, there were no aviation regulations.  That changed in 1926 when the US Air Commerce Act was passed.  This piece of legislation brought maintenance regulation and training standards to non-commercial aviation businesses.  It also required fixed airport addresses for aviation businesses that were once temporary and mobile.  Thus, the term FBO was born.
Services Offered at an FBO
Like Service Plazas found on a Turnpike, with conveniences geared toward truck drivers and road travelers, FBOs offer services and various amenities to pilots and those traveling by air.
One of the leading services offered is aircraft fueling.  At Grand Aire, we follow the ATA.103 fueling standards and offer full-service fueling with Jet-A, Jet-A with ADD and 100 LL AvGas.  No matter what size aircraft stops at our FBO, we have them covered.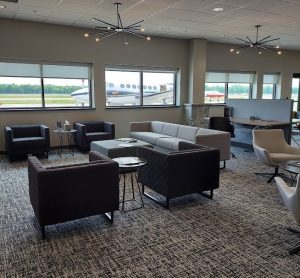 Parking is an essential service at any FBO.  Whether it's short or long-term, an airplane needs a secure space to park.  Not only does Grand Aire have 7 acres of ramp space at the Eugene F. Kranz Toledo Express Airport (KTOL), we also have 2 heated high tail hangars for housing a wide variety of aircraft. 
Other aircraft and passenger services vary by FBO.  Grand Aire offers baggage handling, interior aircraft cleaning, lav service, customs arrangements and even aircraft catering, if desired.  During winter months, we are equipped with de-icing capabilities when necessary, up to 55 ft.         
Cargo handling is a service available at Grand Aire that makes us truly unique.  Very few FBOs have the capability to load or unload aircraft.  We have the capacity to service any aircraft type with our own forklifts and main deck loader.  We can also offer temporary warehousing if needed.
FBO Amenities
For pilots and air passengers, a stop at an FBO can be a short visit, or one that lasts several hours.  During this time, the goal of the FBO is to make their guests' stay as enjoyable as possible. 
Inside Grand Aire's new, state-of-the art FBO, visitors can relax in our spacious, contemporary lounging area.  They can watch aircraft land and take off from the large windows that overlook the ramp or catch a show on the oversized flat screen TV.
Complimentary coffee, bottled water and popcorn can be found in the roomy snacking lounge.  There are also vending options, customary kitchen appliances, additional seating, and another television for entertainment.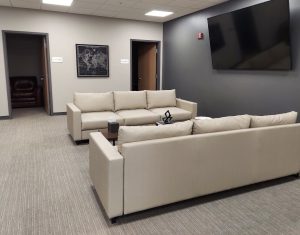 Pilots and aircrew may enjoy a bit of privacy in their own lounge, complete with a third big screen TV.  Two individual sleeping quarters inside the pilot lounge enable crew members to comfortably get some well-deserved rest before their next flight.  Just outside the lounge is an exclusive weather center with computers connected to the internet and ready for flight planning. 
Wifi is available for all guests throughout the FBO.  There are two work stations that can be utilized in the main lounging area, as well as a private conference room for those needing to work while they travel. 
More FBO Amenities
Upon entering Grand Aire's stunning FBO facility, visitors immediately encounter the client service center.  This is "command central" of the FBO.  Our Customer Service Representatives utilize this area to assist guests in any way possible.  This includes processing inbound aircraft forms, securing rental cars, relaying fuel request to the Line Service Technicians, arranging aircraft catering if needed, and much more. 
 A Truly Grand FBO
If your air travel brings you to the Eugene F. Kranz Toledo Express Airport, we are here to assist you.  Grand Aire continues to operate the only staffed 24/7/365 full-service FBO on the field at KTOL.  We are a member of the Corporate Aircraft Association (CAA) and honored to serve as the Preferred CAA FBO at KTOL.
Simply give us a call at 1-800-70-GRAND, or email our team directly at fbo-lineservice@grandaire.com and let us put our 23+ years of FBO service experience to work for you.