The New Look of Commercial Air Travel
Coronavirus aka COVID-19.  Relatively unknown at the beginning of 2020, and now a word that seems to invade every sentence.  Who knew a tiny submicroscopic infectious agent could wreak such havoc on our normal daily routines?  Work, school, shopping, dining.  Everything we do has changed.  That includes flying. 
The price of a plane ticket is down somewhat, but not as much as you would expect considering the drastic decline in bookings compared to last year.  Unfortunately, what is significantly lower is flight choices.  Major airlines are currently running only 5-10% of their normal departures. 
In addition to limited flight options, passengers will see differences in many ways:
At the Airport
On the up side, parking is sure to be more plentiful.  And the lines for check-in, TSA checkpoints, departure gates and restrooms will be pleasantly shorter. 
It's highly likely that travelers will see an increase of hand-sanitizer dispensers throughout the airport.  Floor decals are to be expected to mark the proper 6' social distancing perimeters.  And the now commonly seen plexiglas barriers/sneeze guards have already been erected at all contact points such as the check in and boarding desks.   
TSA agents will be wearing masks, gloves and possibly even eye protection as part of their regular uniform requirements.  Of course, masks must be worn by passengers during check in, security check and the entirety of the flight.  No passenger will be able to board a plane without a mask on.  
Although not currently present, it is anticipated that the installation of temperature check gates for both inbound and outbound passengers could be in the near future.  If a fever is detected, a follow-up check with a thermometer will be mandatory. 
Increased sanitary measures for baggage are expected to be implemented.  Airlines may require the passenger to wipe down luggage handles before staff members will handle them.  Also, limits on carry-on items may be imposed due to their potential contact with other travelers. 
One positive change in security regulations is that now one can carry up to 12 ounces of hand sanitizer.  The previous standard was a mere 3 ounces.
At the boarding desk, passengers may be asked to scan their own boarding pass, again to limit contact.  The actual boarding process may change as well.   Airlines could choose to load back to front, or board fewer people at a time.
On the Plane
Today, it's common for airlines to use smaller, more fuel-efficient aircrafts.  This is resulting in reduced availability (if any) of First Class seating. 
For the vast majority back in coach, seating will be spaced apart to allow distancing.  Some airlines have completely eliminated the use of middle seats for this purpose.  While bad for the bottom line, this seems practical at present since there's not enough demand to fill all seats on most flights. 
From the passenger perspective, seat spacing means less friendly chit chat with others.  This is unfortunate if you're one who likes to converse while traveling.  It's favorable if you're like many nowadays who are hesitant to socialize with strangers.  All things considered, speaking with one's neighbor could get tiresome since you'll have to communicate while wearing a mask the entire flight.        
Although the plane will have noticeably fewer passengers, there will still be a full flight crew and cabin staff.  In addition to the mandatory masks, flight attendants will also be wearing gloves.
In-flight service, if offered, has been downgraded to pre-packaged "sealed and wrapped" snack bags containing a small bottle of water and a pre-packaged snack.  There will be no alcohol for purchase, and no ice available.  Many airlines are even considering eliminating refreshments altogether.
Another travel convenience that is probably a thing of the past is pillows and blankets.  These may be removed from the plane entirely, if not done so already. 
Final Destination
Upon reaching the arrival airport, it is highly likely that passengers will be subject to another temperature check.  If no fever is detected, they may proceed to navigate (with mask on) to the baggage carousel. 
Finding your bag among those shuffling along on the conveyor should be considerably easier due to the limited number.  And although not mandated, it might be a good idea to wipe down your bags once retrieved from the baggage carousel.
An Alternative Solution
Today it seems that only essential air travel is taking place.  The excitement of flying for pleasure may be a thing of the past, at least for now.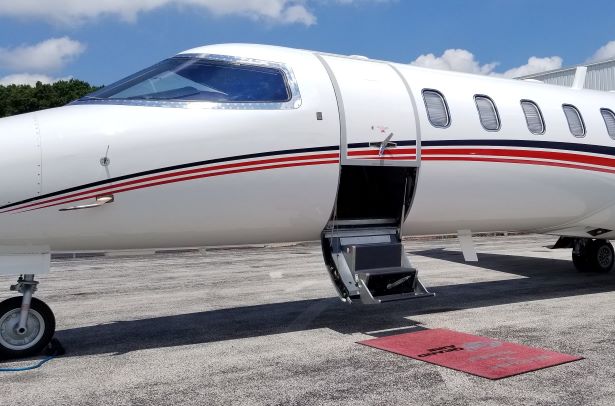 To reduce the stress and hassle associated with commercial flying, one might consider a private charter. It is truly a reliable and safe option for air travel and can even save valuable time.  Grand Aire has over 30 years of experience in the air charter industry.  Let us put our expertise to work for you.  We can provide a travel solution to satisfy individual needs and schedules. Visit us online or give us a call at 1-800-70-GRAND.