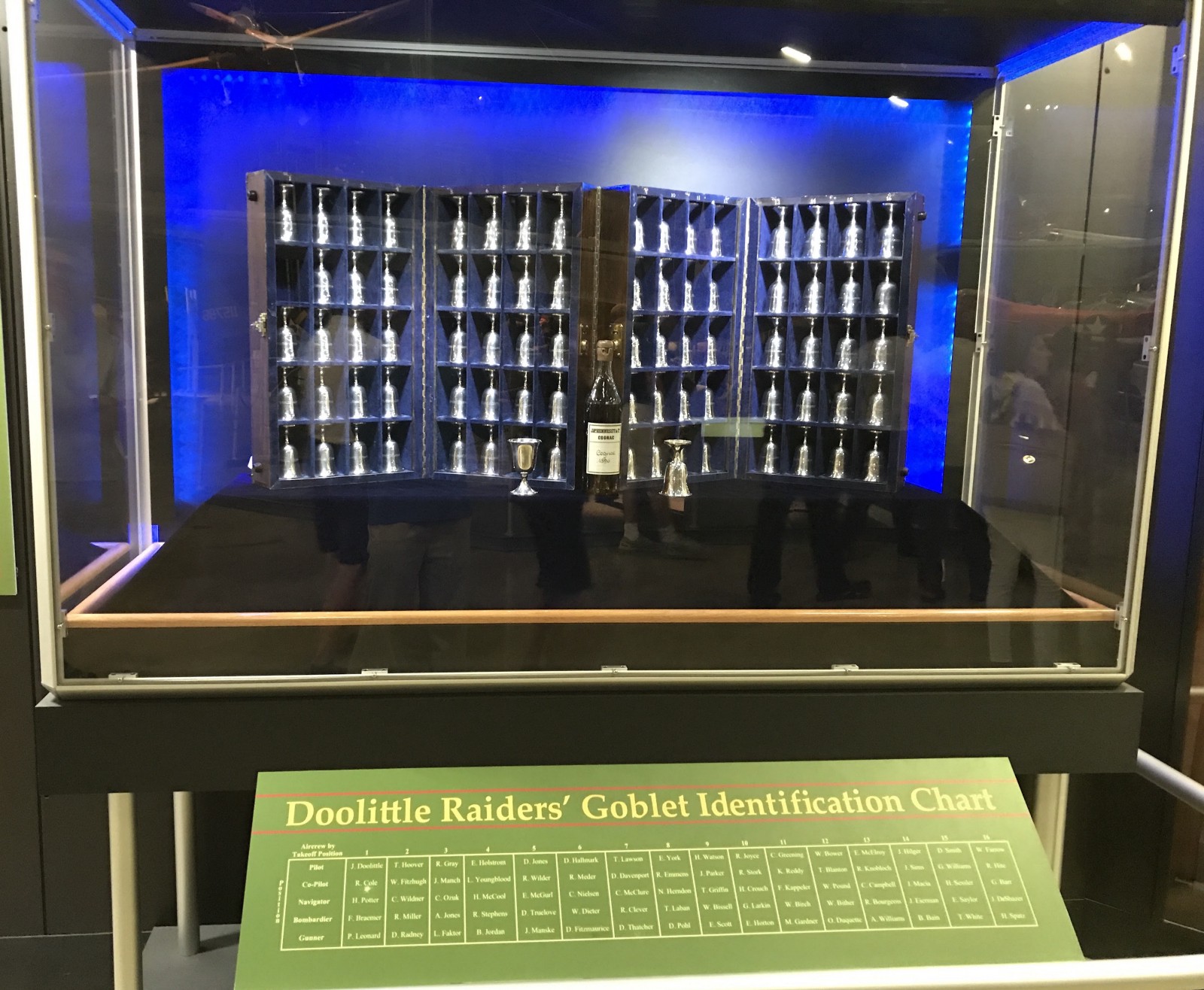 At the age of 103, Richard "Dick" Cole, a native of Dayton, Ohio, and the last surviving Doolittle Raider passed away this past April 9th in San Antonio, Texas. Truly, we have lost one of our finest!
Not being a novice of WWII history, I first learned about The Doolittle Raiders, and their unbelievable surprise raid on Japan, (which occurred during another April back in 1942,) when visiting the US Air Force Academy, where my eldest son had been selected to attend. There on campus at the Arnold Hall (a center for the cadets) in a display case was the most unusual arrangement of items consisting of an aged bottle of Cognac, and eighty silver goblets, with the names of each Raider engraved both right-side up and upside-down. Even back in 1999, there were more upside-down goblets than right-side up ones, which symbolized the death of that brave airman. So, year by year more goblets were overturned. 
Standing there at the display case reading their abbreviated story, and how their tradition began of meeting together on an annual basis, in order to offer a toast honoring those Raiders who were still living, and those who had already passed—I could envision those eighty brave aviators, led by the courageous Lt. Col. Jimmy Doolittle (renown for setting and breaking many aeronautical records), and who had all actually volunteered for this incredible one way mission! Their plan was to bomb Japan in retaliation of Japan's attack on Pearl Harbor, Honolulu, which had devastated our naval fleet and killed 2,403 Americans on December 7, 1941, just four months prior. 
Just picture the site of sixteen stripped down B-25 Mitchell bombers lumbering down the deck of an aircraft carrier, which was sitting in the waters close to Japan. Dick Cole, a young 2nd Lt. co-pilot sat alongside his Commander, Lt. Col. Doolittle, with their aircraft being the first B-25 to take-off. A bomber aircraft taking-off from an aircraft carrier had never even been tried, let alone done, before that day on April 18, 1942. Not only were these men wondering if that was even possible, they also knew upon departing they would either run out of fuel or be extremely close to empty upon their hopeful landing in friendly China, after the bombing raid on Japan was completed. It is hard to even guess what they must have been thinking whenever they took off on a one-way journey into enemy territory. 
The mission was hailed as a success, which tremendously boosted the morale of the US by providing a surge of hope to all, as well as showing Japan they could be bombed from above—but the raid did not go as planned due to them having to depart twelve hours earlier than scheduled. This made them that much farther away from their target, Japan, than what they had originally prepared for. After completing their bombing mission over Japan, and then running out of fuel, four bombers crash landed; eleven crews had to bail; one airmen lost his leg; one plane ended up in the Soviet Union, and that crew was imprisoned and eventually set free; eight were captured, and one starved to death in a Japanese prison camp; three were executed. Lt. Col. Jimmy Doolittle and 2nd Lt. Dick Cole survived. Remember…these men had all volunteered for this one-way mission. They were extraordinary men during an extraordinary time in our history!
With the death of the last heroic Doolittle Raider, Richard "Dick" Cole, who had long ago retired from the US Air Force earning the rank of Lt. Colonel, the "last goblet" has now been turned over, reuniting him with all the fearless Raiders who have gone on before him. 
For this upcoming Memorial Day, do not just make it all about BBQ, beer and brats, but raise your glass, and make your own toast to honor those gutsy, valiant Americans we know as the Doolittle Raiders, by paying tribute not only to them, but to all our servicemen and women who answered America's call and paid the ultimate price to ensure our continuing freedom! 
-Katrina Cheema