We all know that for products to be built, or shelves to be stocked, important cargo must get from point A to point B.  And this must be done in a timely manner.  Since shipments such as these are most likely larger than 30 inches by 30 inches by 30 inches and weigh over 150 pounds, it is considered freight.  So how does this "freight" travel from one location to another within a tight schedule? 
The Starting Point
Before a single box is loaded onto any vehicle, a bid request is submitted by the manufacturing/shipping company.  This bid request is comprised of pertinent information regarding the shipment including the total number of skids to be transported, the dimensions and weight of each skid, the need ready time (time cargo can be ready to be picked up from shipper) and the protect time (time the shipment needs to be at its final destination, or consignee.)  It also includes important logistical information such as the origin city and the destination city.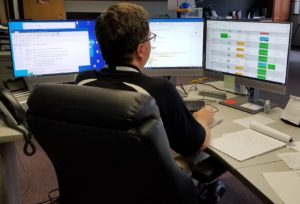 At Grand Aire, this information is entered into our bid board system to quickly and accurately find the best, appropriate carrier available.  As an experienced and reputable charter broker, we are equipped with the necessary connections to secure the optimal aircraft for the shipment.  We can even arrange truck transportation, if needed. 
Through our vast channels, we are able to orchestrate door to door, door to airport, airport to airport and airport to door service.  Armed with the necessary details, we can provide a complete shipping plan within 15 minutes.       
Onto the Truck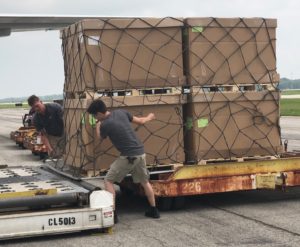 Bulk goods or finished products are loaded onto pallets (aka skids) or in other shipping containers for transporting, usually by truck, to their next destination. 
Pallets are primarily made of wood and are used to consolidate the shipment for easier movement.  Crates or corrugated boxes can also be used to house lighter items.  Once the freight has been palletized or boxed, it is loaded onto a truck bound for the departing airport.
Into the Sky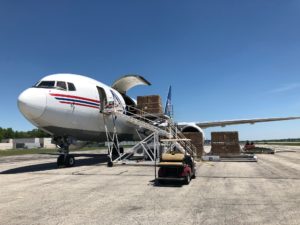 Upon its arrival, ground handlers get to work offloading the cargo from the truck and loading it onto the aircraft.  Each pallet is placed on what is commonly called a cookie sheet (flat metal support with wheels for easy moving) and then netted to keep the cargo securely in place on the pallet.
As pallets are moved into place on the aircraft, an aircrew member known as the loadmaster ensures that the full weight of the shipment is spread evenly across the various zones of the plane.  Once all skids are on board, a final count is performed and then it's wheels up! 
On the Road Again
After landing at its intended airport, the plane is unloaded by the receiving FBO ground crew.  The cargo is then loaded onto a waiting truck and continues its journey to the final location where it will ultimately be transformed into the end user product.  
Looking for a shipping solution for your valuable freight? Let us put our expertise to work for you.  Visit us online or give us a call at 1-800-70-GRAND.