Spread the Word – It's National Donate Life Month!
What is National Donate Life Month?
Established in 2003 by Donate Life America and its partnering organizations, the month of April has been designated as National Donate Life Month (NDLM).  The goal of NDLM is to help raise awareness about organ donation, encourage Americans to register as organ, eye and tissue donors and to honor both donors and donor families who have saved lives through the gift of donation. 
Help Support NDLM – Become a Donor!
Today, there are more than 100,000 people waiting for lifesaving organ transplants.  The most important way to support organ donation is to become a donor yourself!  Registration is easy.  Simply go to:  https://registerme.org/  Be sure to share your donation wishes with your family so that they understand your intentions. 
Through deceased organ donation, a single donor can save up to 8 lives, restore sight to 2 people through cornea donation, and heal more than 75 lives through tissue donation.  Organ donation can even provide solace to a grieving family, knowing their loved one is helping others in need.
Living organ donation is also possible.  By donating a kidney or a portion of your liver, a matching transplant candidate can be spared a long, uncertain wait.  Information on becoming a living donor is available through the United Network for Organ Sharing (UNOS) website. 
Educate Others
There are numerous ways to help educate others about organ, eye and tissue donation.  Donate Life America (DLA) has inspirational videos readily available that can be posted on social media to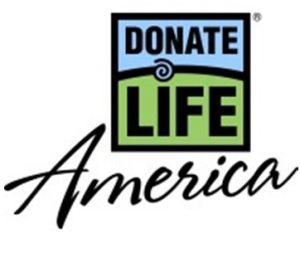 show the impact organ donation has had on many lives.  They also have downloadable print ads and business cards that can be handed out that contain information on registering to be a donor, as well as becoming a living donor. 
You can order 10 free printed brochures from DLA online and purchase additional ones, if desired.  Their website also offers Donate Life digital banners that can be embedded on a personal or company website.        
If you've already registered as an organ, eye and tissue donor, share your news with family, friends, coworkers and community members!  Ask them to consider registering themselves. 
The most personal way to spread the word about organ donation is by telling your own story.  How has organ donation impacted your life?  Whether you are a registered donor, a transplant recipient, member of a donor or transplant recipient family, or even a patient waiting for a transplant, your unique perspective can have a profound impact on those you interact with daily. 
Get Involved Locally
There are numerous supporting organizations throughout the United States that work to promote and coordinate organ donations.  They also offer resources and support to donor families and recipients.
Volunteers are vital to the mission of sharing the message of organ, eye and tissue donation.  From handing out information at tabling events, to public speaking or even assisting with office work, there are numerous opportunities to get involved with Donate Life State Teams.  For a list of Donate Life State Team Leaders, go to:  https://donatelife.net/how-you-can-help/take-action/get-involved-locally/ 
Financial Contributions
Every dollar given to Donate Life America goes directly towards increasing the number of organs, eyes, and tissues that ultimately help save lives.  You can donate online or mail them a check directly to: 5516 Falmouth Street, Suite 302; Richmond, VA  23230.
Making a monetary donation?  Check with your employer, too.  Some companies will match a contribution given by an employee to a reputable non-profit organization like DLA.  This is a great way to double the impact of a financial gift.
Hosting a fundraising event on behalf of Donate Life America or even shopping online at the Donate Life Store are other options to assisting financially.   
Many states have partnering organizations that work to help raise awareness about the importance of organ, eye, and tissue donation.  In Ohio for example, the Second Chance Trust Fund is sponsored by the Ohio Department of Health.  An optional $2 contribution can be made to the Fund while visiting the Ohio Bureau of Motor Vehicles to renew a driver's license or state I.D.  
Also, like in many states, the Ohio BMV offers a Donate Life license plate that can be purchased, with a portion of the cost going directly to the Second Chance Trust Fund.
Join the Donate Life Community
Stay informed about organ donation issues, stories, National observances and celebrations by signing up for the Donate Life America newsletter.  Delivered straight to your inbox, it provides current news about organ donation, valuable resources and tips on how you can help share the Donate Life message.
Like Donate Life America on Facebook.  If you're a recipient, caregiver, donor family or living donor, it's a great platform to share your story and inspire others.  You can also follow DLA on Twitter and Instagram.  Show your support for organ, eye and tissue donation by using the hashtag #DonateLife.    
Our Heart's in Every Flight
Grand Aire shares a passion for organ donation.  We specialize in Air Medical Transportation of both organ recovery and surgical team flights, and are proud to be considered a leading provider of on-demand air charter services for many Organ Procurement Organizations (OPO) and Transplant Centers.  Our Logistics Specialists are available 24/7/365 and well-prepared to quickly evaluate transportation needs and provide the best solution to meet each critical timeline.
For more information, visit our Medical Air Transport Services page or give us a call at 1-800-70-GRAND.