Honor Flight Resumes in 2022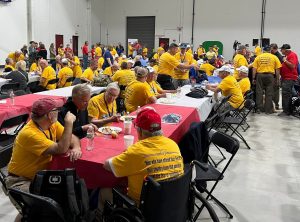 After a 2-year hiatus due to the COVID-19 pandemic, Flag City Honor Flight has resumed its mission of facilitating the transportation of American Veterans to Washington, D.C.  The first of three Honor Flights to take place this year departed the Eugene F. Kranz Toledo Express Airport on Tuesday, June 7th. 
Prior to takeoff, Veterans and numerous Honor Flight Volunteers gathered inside Grand Aire's hangar early in the morning for a buffet breakfast and ceremonial sendoff. 
Mission 19 as they are known, is comprised of 81 Veterans, both male and female, and their Guardians.  Four are World War II Vets.  Others served in the Korean or Vietnam War.  Many of the Veterans of Mission 19 have been on a waiting list since the last flight to D.C. in September of 2019. 
A Full Day in D.C.
After roughly 4 hours in flight, FCHF Veterans were warmly greeted by a crowd of hundreds at Reagan National Airport – DCA.  From there, they traveled by bus to the World War II, Korean War and Vietnam War Memorials.  After lunch, members of Mission 19 observed the Changing of the Guard at the Tomb of the unknown Soldier at  Arlington National Cemetery. 
The long day agenda also included stops at the U.S. Marine and Air Force Memorials.  Despite a little bit of rain, the spirit and enthusiasm of this group were not dampened.          
The Return Home
Upon their 11:25 pm arrival back at KTOL, Mission 19 received a true Hero's Welcome Home.  Family, friends and various members of the community cheered, applauded and waved signs while packed into Grand Aire's hangar.  This kind of fanfare was something many of the Vets never received when they came back from war. 
Honor Flight – The Organization
Founded in 2005, the Honor Flight Network is an association of over 128 independent regional hubs working together towards one common goal: To transport America's Veterans to Washington, D.C. in order to visit those memorials dedicated to honor their service and sacrifices.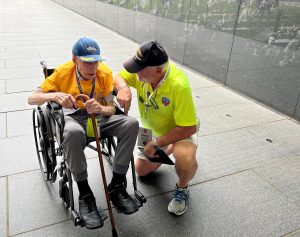 Flag City Honor Flight is the Findlay-based hub that services Veterans in Hancock County, northwest Ohio and southeast Michigan.  Since 2010, this 100% volunteer-run non-profit organization has been successfully organizing and implementing flight missions to D.C. at no cost to the Veteran.
Each flight accommodates roughly 80 Veterans accompanied by volunteers serving as Guardians.  What originated with one flight per year grew to two flights in 2017.  In 2022, FCHF will host three flights:  June 7, September 13 and November 1. 
World War II Vets are always given priority, but flights are open to Veterans of all eras.  To be eligible, a Veteran simply has had to have worn a uniform and been on active duty, regardless if it was a time of war or not.  To apply for a flight as a Veteran, Guardian or volunteer, go to:  https://flagcityhonorflight.org/applications/
Our Honor and Privilege
Lead by a United States Veteran and former marine, Grand Aire is especially proud to continue our support of Flag City Honor Flight.  For more than 8 years, we have hosted the Honor Flight sendoff and return inside our hangar at the Eugene F. Kranz Toledo Express Airport.          
We operate the only 24/7/365 full-service Fixed Based Operation on the field at KTOL and are committed to providing the highest level of service.  From heavy jets to single engine planes, we can accommodate most needs.  Give us a call at 1-800-70-GRAND or email our team directly at fbo-lineservice@grandaire.com.