Pilots N Paws: Providing First Class Rescues
It's a sad statistic, but each year more than 4 million stray or surrendered pets are euthanized due to overpopulation in animal shelters throughout the country.  Transporting adoptable dogs and cats from one overcrowded shelter to another with space available is one viable solution.  Thanks to an organization called Pilots N Paws, this is exactly how thousands of pets' lives are saved each year.    
A Pet Saving Idea is Born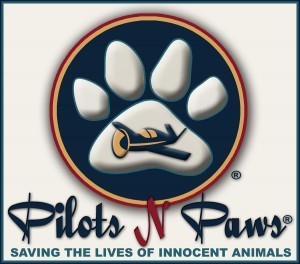 In 2008, retired nurse Debi Boies desperately needed to relocate a Doberman from a shelter in Florida to her home in South Carolina to spare his life.  Her friend and pilot, Jon Wehrenberg, graciously offered his services.  Once Jon returned with the dog, he and Debi realized that many more pet lives could be saved if other private pilots would be willing to transport at-risk animals to less crowded shelters or even to new adoptive homes.  Thus, the concept of Pilots N Paws was formed. 
The number of volunteer pilots as well as animal rescuers in need of transportation services quickly began to grow.  Just one year after its inception, Pilots N Paws  (PNP) was granted official 501c3 tax exempt status.  Today, interest in the organization continues to flourish.  The PNP network currently has over 5,000 volunteer pilots plus an additional 12,000 general volunteers. 
Each year, PNP volunteers help to save thousands of lives.  In 2021 alone, flying missions for PNP saved over 15,000 innocent pets.  While dogs are the primary passengers for these flights, cats, rabbits, guinea pigs, reptiles and even birds have also been rescued through PNP efforts.             
Connecting Pilots with Pets in Need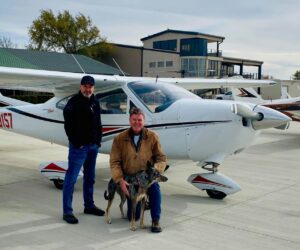 While it is possible to move sheltered pets by vehicle, the exceptionally long road trips can be stressful for sensitive animals such as those with health problems, or mothers with young litters.  Consequently, a faster mode of transportation is preferable.    
Through the Pilots N Paws website, general aviation pilots kindheartedly volunteer to transport such rescue animals by air.  They post their availability on the PNP message board, and those that rescue, shelter, and foster animals post their needs.  When there is a match, the two parties communicate with each other via email and develop a transportation plan. 
Each volunteer pilot may fly up to 300 nautical miles per trip.  Those animals travelling longer distances are transferred to a 2nd or even 3rd plane if necessary, in a type of "rescue relay" until they reach their final destination.
Pilots with Big Hearts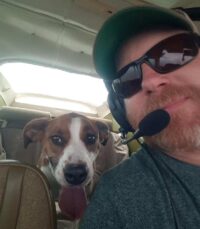 It's a popular misconception that private pilots are undoubtedly wealthy.  In reality, many pilots who volunteer to fly for PNP don't even have their own plane.  Every volunteer pilot pays for their own fuel as well as other expenses (such as plane rental, if needed.)  There is no monetary compensation whatsoever to pilots who perform rescue flights. 
So, what do they get out of it?  For one, the satisfaction of utilizing their passion of flying for such a meaningful, worthwhile cause.  It's also a rewarding way to complete flight hour requirements to earn or keep their pilot license current.  Fuel cost for rescue missions are tax deductible, as are any plane rental expenses.  Plenty of face licks from appreciative pooches is certainly a priceless perk as well. 
Red Carpet Service at KTOL
While animal-saving flights from Toledo aren't extremely common, many of our private charters do include a passengers' beloved pet.  As the only 24/7/365 full-service FBO on the field at KTOL, we pride ourselves on providing the highest level of service.  We go that extra mile to accommodate your (and your pets) needs. 
If your travels happen to bring you to our FBO, we are more than happy to assist you.  Check out our list of services and amenities or give us a call at 1-800-70-GRAND.  You may also email our team directly at fbo-lineservice@grandaire.com.