Eugene F. Kranz: NASA Legend & Toledoan
The latest individual to join the ranks of local celebrities like Jamie Farr, Urban Meyer, Anita Baker and Katie Holmes is Toledo native, Eugene F. Kranz.  Don't recognize the name?  In the movie, Apollo 13, Ed Harris played the flight director for NASA's third moon-landing mission.  That man was Gene Kranz.
From Toledo to NASA
Eugene Francis Kranz was born in Toledo, Ohio, in 1933.  He was the youngest of three children, and the only son.  As a child, he loved building model airplanes and dreamt of becoming a fighter pilot.
Gene's advanced technological intellect and imagination was evident early in his life.  While attending Central Catholic High School, he wrote a thesis entitled "The Design and Possibilities of the Interplanetary Rocket" which explored the potential of flying a single-stage rocket to the moon.  Space exploration didn't event exist yet.    
With guidance and encouragement from some of the Sisters at CCHS, Gene secured a scholarship to Saint Louis University's Parks College of Engineering, Aviation and Technology.  In 1954, he graduated with a Bachelor of Science degree in Aeronautical Engineering.
After college, Kranz was commissioned as a Second Lieutenant in the U.S. Air Force, flying jet fighters such as the F-80, F-86, and F-100.  He was sent to South Korea to fly the F-86 Sabre aircraft for patrol operations around the Korean DMZ (De-militarized Zone).  Following his tour, he went to work as a flight test engineer for McDonnell Aircraft.  In this position, he developed the Quail Decoy Missile for B-52 and B-47 aircraft. 
In 1960, Kranz responded to an ad in Aviation Week from NASA, who was looking for engineers.  He was hired sight unseen and became a member of the NASA Space Task Group at its Langley Research Center in Hampton, VA. 
A Career in Space
Working as a Procedures Officer, Kranz oversaw the integration of Mercury Control with the Launch Control Team at Cape Canaveral.  Additionally, he wrote the "Go/No-Go" countdown and mission procedures that allow missions to continue as planned or be aborted.    
In 1962, he was promoted to Assistant Flight Director for the MA-7 flight.  He remained in this role for the final two Mercury flights and the first three Gemini flights.  In 1965, he was promoted to Flight Director for Gemini. 
Mr. Kranz continued as Flight Director, but only for the odd numbered Apollo missions.  This included the infamous 1969 Apollo 11, when Neil Armstrong and Buzz Aldrin became the first men to walk on the moon. 
The Apollo 13 mission proved to be even more challenging when the oxygen system aboard the spacecraft failed, crippling it while en route to the moon.  Kranz courageously led his "Tiger Team" in their sudden and urgent quest to safely bring the crew back to Earth.  By setting constraints for the consumption of spacecraft consumables and engineering three course-correction burns during the trans-Earth trajectory, they successfully accomplished their mission.  He and his team, as well as the astronauts, received the Presidential Medal of Freedom by President Nixon for their roles.
Kranz continued as Flight Director through Apollo 17.  In 1974, was promoted to Deputy Director of NASA Mission Operations, followed by Director in 1983.  After the successful Shuttle mission of STS-61 to repair the Hubble Space Telescope in 1993, Kranz retired in March 1994.      
Airport with a New Name
In 2018, Toledo Mayor Wade Kapszukiewicz, publicly expressed his desire to rename the city's airport to honor the accomplishments and achievements of Mr. Kranz.  After a unanimous vote by the Toledo-Lucas County Port Authority board of directors in favor of the name change, the former NASA flight director's name was added to Toledo Express Airport.     
The newly named Eugene F. Kranz Toledo Express Airport was made official during a ceremony held at the airport on May 22, 2021.  Mr. Kranz, along with several family members, returned to his hometown to attend the event. 
To open the ceremony, members from Central Catholic High School's band and chorus performed, followed by a duel F-16 flyover from the Ohio Air National Guard's 180th Fighter Wing.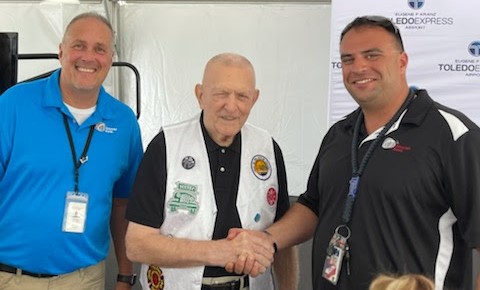 Grand Aire was privileged to be represented at this distinguished occasion by CEO and President Zach Cheema, and Scott Hutchinson, Business Development.  As a resident business on the field at KTOL, we are equally pleased to have the airport renamed in honor of such an inspirational, dedicated and driven man.
We are proud to operate the only 24/7/365 full-service FBO on site at Eugene F. Kranz Toledo Express Airport.  We strive to provide only the highest level of service and expertise to the airfield that bears his name.  If your travels bring you through Toledo, allow us to put our experience to work for you.  Give us a call at 1-800-70-GRAND or email our team directly at fbo-lineservice@grandaire.com.