CAF AirPower History Tour Visits KTOL
This summer, Grand Aire was honored to host the CAF AirPower History Tour on our ramp at the Toledo Express Airport (KTOL).  In a word, this display of historic World War II aircraft is awe-inspiring.  Visitors were able to take a step back in time by touring the cockpit of iconic bombers such as the B-29 Superfortress "FIFI" and the B-24 Liberator "Diamond Lil".  This event is made possible solely due to the tireless efforts of the many dedicated members of the Commemorative Air Force.     
What is the Commemorative Air Force?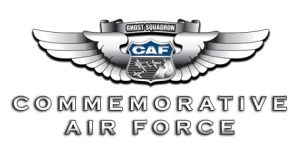 Known as the CAF, the Commemorative Air Force is the largest flying museum in the world.  Proudly considered an educational organization, its 13,000 members are dedicated to honoring American military aviation history.  They do this through preserving and then exhibiting historical aircraft at airports throughout the United States. 
The CAF was unofficially founded in 1957 when a gentleman by the name of Lloyd Nolen and four other ex-service pilots purchased a P-51 Mustang.  They bonded over their passion for maintaining the classic warplane.  In 1958, they expanded their collection by buying two Grumman F8F Bearcats.
Their mission was defined upon the realization that very few planes that flew during World War II remained in flying condition.  Most, in fact, were scrapped or abandoned, or being used for target practice by current military units. 
In 1961, the CAF was granted nonprofit status and escalated their quest to save and preserve an example of every WWII combat aircraft.  By 1963, their goal of acquiring one of each American WWII fighter planes was achieved.    
Today, the CAF has the largest collection of airworthy warbirds.  Their fleet of more than 175 aircraft represents more than 60 different types.  Two of their most iconic warbirds, "FIFI" and "Diamond Lil" were part of the AirPower Squadron featured at KTOL.    
Meet FIFI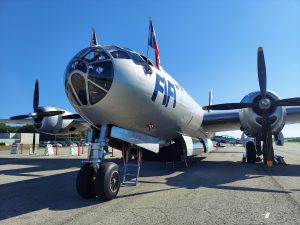 Boeing B-29s were first flown in 1942 and began active service in 1944.  They were designed as a replacement for the older B-17s and B-24s.  Their greater bomb loads, and longer range were essential for operations in WWII. 
FIFI, the most famous flying B-29 Superfortress today, was acquired by the CAF in the early 1970s.  Sadly, she was being used as a missile target at the U.S. Navy Proving Ground at China Lake, CA.  CAF members successfully rescued her and restored her to flying condition.  In 2006, FIFI underwent a four-year restoration to replace all four of her engines with new custom-built hybrid ones. 
FIFI was back in the air in 2010 and continues to fly today.  When not touring, FIFI's home is at the Victor N. Agather hangar at Dallas Executive Airport. 
Introducing Diamond Lil
The original design for the B-24 dates back to 1938.  After numerous adjustments were made, this long-range heavy bomber proved to be able to fly faster, higher and farther than its cousin, the B-17 Flying Fortress.  Between 1940 and 1945, more than 18,000 B-24 Liberators were built, making them the most produced American aircraft of the entire war. 
The CAF's "Diamond Lil" was the 25th B-24 built in 1941.  She was originally sold to Great Britain as AM927.  After performing an array of duties, Lil found her way back to the United States in 1968 and under the ownership of the Commemorative Air Force. 
The B-24 was painted in the colors of the 98th Bombardment Group in 1972 and officially given the name Diamond Lil.  Thirty plus years later, she received her distinguished nose art, taking her back to her B-24 Liberator roots. 
Like most historic warbirds, Diamond Lil has experienced her share of malfunctions and repairs.  But since mid-2013, she has been a steadfast part of the AirPower History Tour.  Numerous visitors have had the pleasure of admiring the unique beauty and impressive stature of this rare, distinguished aircraft.
Near and Dear to Our Hearts
Here at Grand Aire, we have an insatiable passion for aircraft, both modern and historic.  We also harbor a deep respect for our Veterans.  It was our absolute privilege to assist in providing our community the opportunity to see these iconic warbirds, learn some American history and perhaps share some stories.   
We are equally proud to continue to operate the only 24/7/365 full-service FBO on the field at KTOL.  If your travels happen to bring you to Toledo, we would be happy to handle your air charter needs.  We have quite a list of services and amenities to offer.  Give us a call at 1-800-70-GRAND or email our team directly at fbo-lineservice@grandaire.com