BGSU Football Team Flies Charter to Kansas
For the Bowling Green State University Falcons football team, their focus was on the game.  But the logistics on how they would get to the K-State field in Manhattan, Kansas, was most likely the last thing on their mind.  Just as practices began weeks before the actual season, preparation for team travel started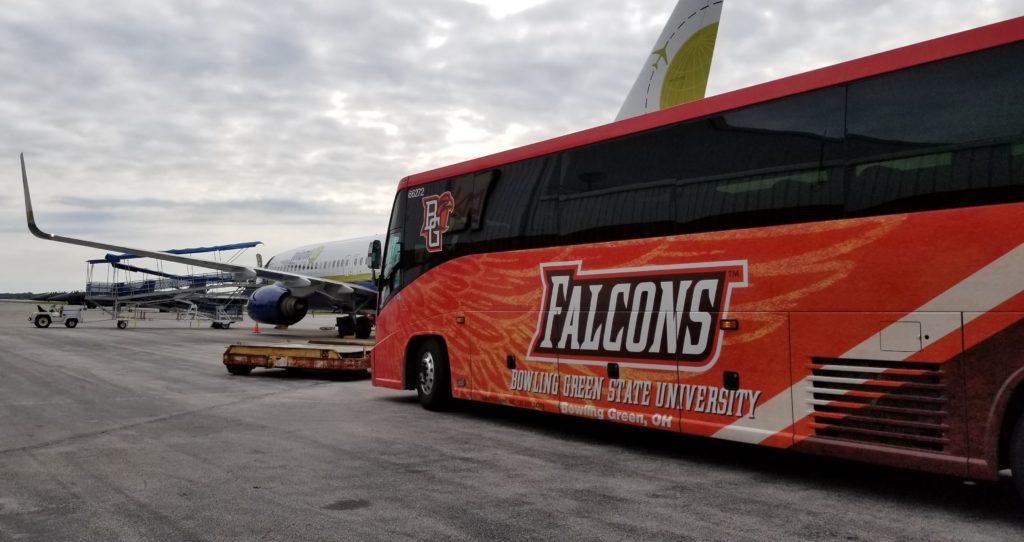 months in advance.  This pre-planning is vital if a plane, flight crew, ground crew and ramp space are to be procured for the designated days and times.    
On the day of their departure, the BGSU players, coaches and trainers arrived by bus at the west end of Toledo Express Airport around 10:00am and casually relaxed in Grand Aire's hospitality lounge area located inside their FBO.  The Boeing 737 on which they were to ride, however, ferried (empty) into Toledo a full day ahead of time to be cleaned and fueled by Grand Aire Associates, then parked on the ramp for the night.  Stanchions and tables were placed in the company's hangar according to pre-determined specifications to facilitate the security screening process.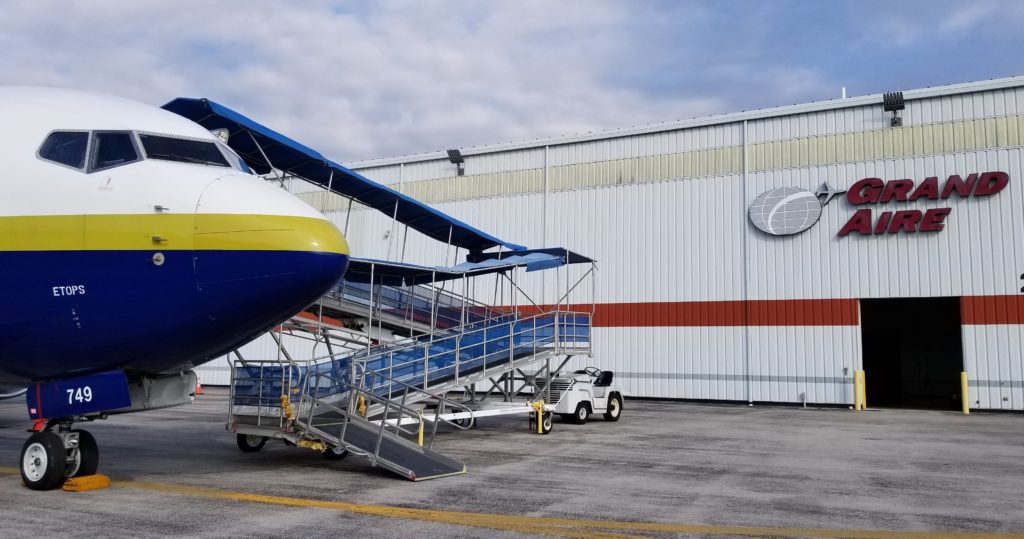 Lastly, loading stairs were prepped and readied to ensure they could be moved into place the next morning without any issues or delay in the boarding process of the anticipated passengers. 
Whereas this group did not require it, many sports teams who use Grand Aire's FBO facilities also utilize their aircraft catering services.  When requested in advance, they are readily able to stock a variety of beverages, sandwiches, snacks and more for the air charter travelers.    
Hours before the Falcon buses pulled into the lot, Transportation Security Administration (TSA) personnel were present to establish their security checkpoint in Grand Aire's hangar.  In this secured area, each traveler's identification was verified, carry-on bags were inspected, and security checks were performed with a hand-held electromagnetic wand.
Outside the hangar, Grand Aire's ground crew quickly and diligently transferred the team's baggage and equipment from the buses' cargo hold to the belly of the narrow-body airliner that would transport the team and their entourage to their important destination. 
Good weather, advanced planning and the hard work of a dedicated, experienced crew were successful in prepping the plane and its passengers to taxi out to the runway on time.  As for the outcome of the game?  Well…we love our Falcons!
Whether traveling to a special event or getting your team of employees to an important out-of-town meeting, let Grand Aire's Logistic Specialists tackle the details for you.  Simply give us a call at 1-800-70-GRAND or email our team directly at logistics@grandaire.com.