B-17 Bomber Madras Maiden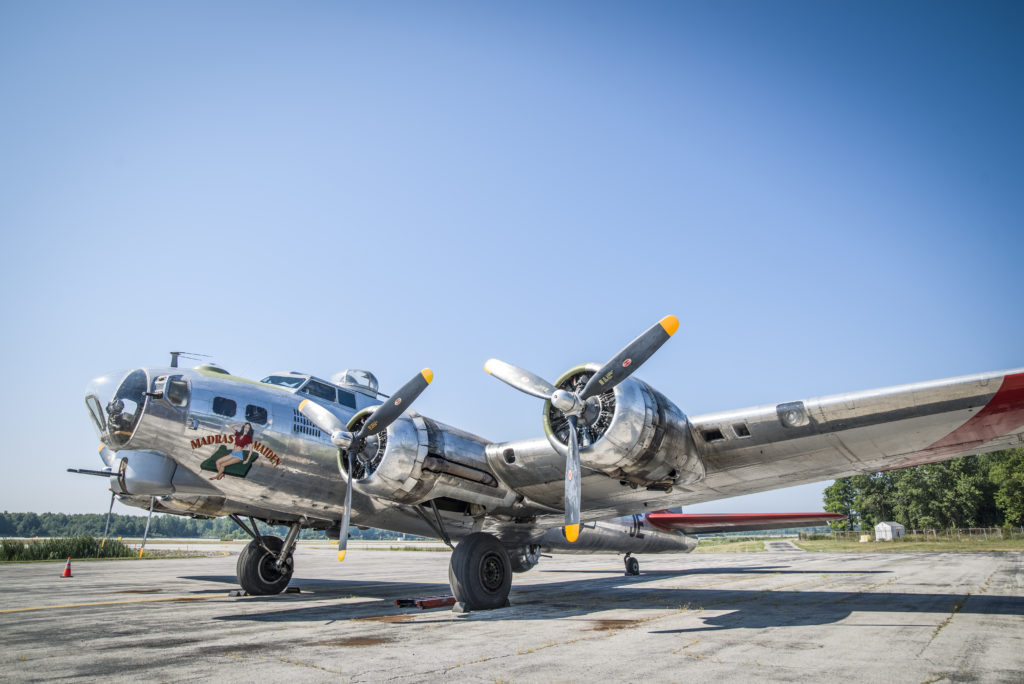 The B-17 Bomber "Madras Maiden"
Starting on the 23rd of July, Grand Aire was fortunate enough to host a World War II Boeing B-17 Bomber, named "Madras Maiden." This aircraft and all other B-17s are also known as the "Flying Fortress" because of their defensive fire power during the WWII. The Madras Maiden was  built in 1944 making this it's 74th year of operation. Out of 12,732 that were made during the war, The Madras Maiden is 1 of only 12 B-17's that still fly today.  
Although most B-17's were involved in combat, the Madras Maiden was never involved in any combat. This particular aircraft was used as a research and development aircraft. It was also used as a "Pathfinder" B-17, meaning the Madras Maiden was equipped with the H2X "Mickey" radar system and is the only "Pathfinder" B-17 that exist still today.
After the War
In 1959, the Madras Maiden was sold for $5,025.00 to American Compressed Steel of Ohio. After that, the aircraft was used as a transport for fresh produce between Florida and the Caribbean. In 1963, the aircraft was sold again to the US Department of Agriculture to be converted into a Fire Ant sprayer. From 1979 to 2014, the aircraft spent it's time in Aviation Museums being restored back to it's original combat configuration. Today, the Madras Maiden is owned by the Liberty Foundation and spends its time traveling the country paying tribute to all veterans, educating current and future generations, and giving the opportunity for people to fly in and tour this historical aircraft.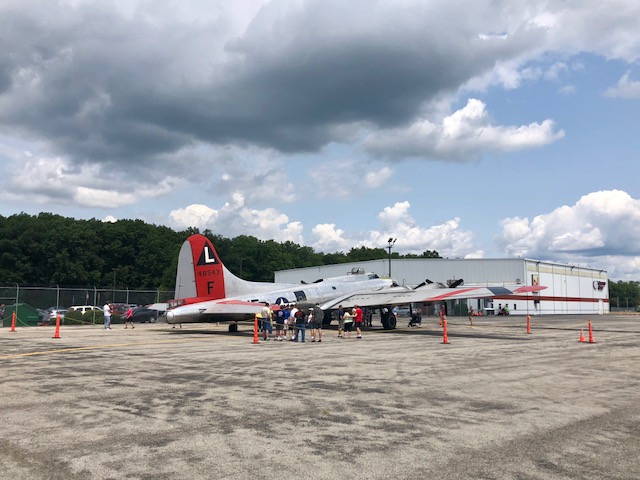 Tours at Grand Aire
Due to mechanical problems the Madras Maiden was not able to fly passengers around the Toledo area after it arrived. Although the Madras Maiden was not able to give rides here at Grand Aire in July, we were able to give tours of the historic aircraft. People of all ages came out to see the Madras Maiden and get a glimpse of American history in real life. You can look at a million pictures online of this aircraft, but nothing amounts to seeing it in person. If you would like the opportunity to experience a B-17 in person, you can check out Liberty Foundation's website for the schedule.
Rides
The B-17 Bomber has been repaired and is ready to take flight! Get to ride on the Flying Fortress this upcoming weekend, August 11th-12th.  Call the Liberty Foundation at 918-340-0243 to book a flight or for more information.
Our FBO was honored to host this B-17 for the week and hope to have it back in the future. If you are looking for a great FBO to stop at in the Toledo area, Grand Aire FBO is able to make space on the ramp for you and make sure that all the services you need are available 24/7/365. For more information call 800-70-GRAND or visit our website www.GrandAire.com