American Veterans Fly to Washington, D.C.
The Sendoff
On September 24th, Grand Aire was once again pleased to host the sendoff and return of another memorable Flag City Honor Flight (FCHF).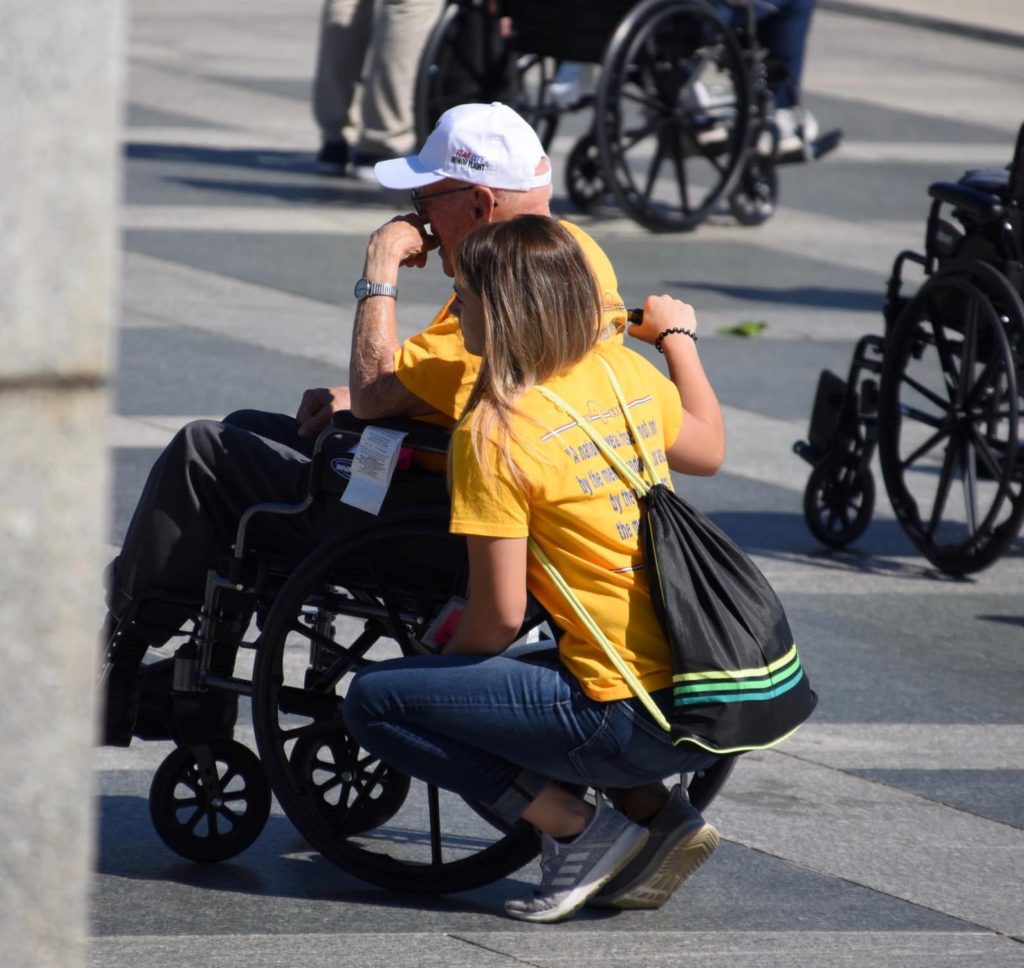 After receiving their official Honor Flight t-shirt and enjoying a buffet breakfast in Grand Aire's hangar, "Mission #17", comprised of 77 Veterans (15 of whom served in WWII), and their Guardians departed on a Boeing 737 at 7:45 am to travel to Washington, D.C. for an in-person view of the war memorials built in their honor.   
While in Washington, the delegates of Mission #17 visited the memorials dedicated to World War II, Vietnam and the Korean war.  They also served as honored guests to witness the extremely poignant ceremonial Changing of the Guard at Arlington National Cemetery. 
Welcome Home
Upon their return landing at Toledo Express Airport, the Vets disembarked the plane amongst a line of flag bearing American Legion Riders.  They were met by FCHF volunteers, local dignitaries, sheriffs and news reporters.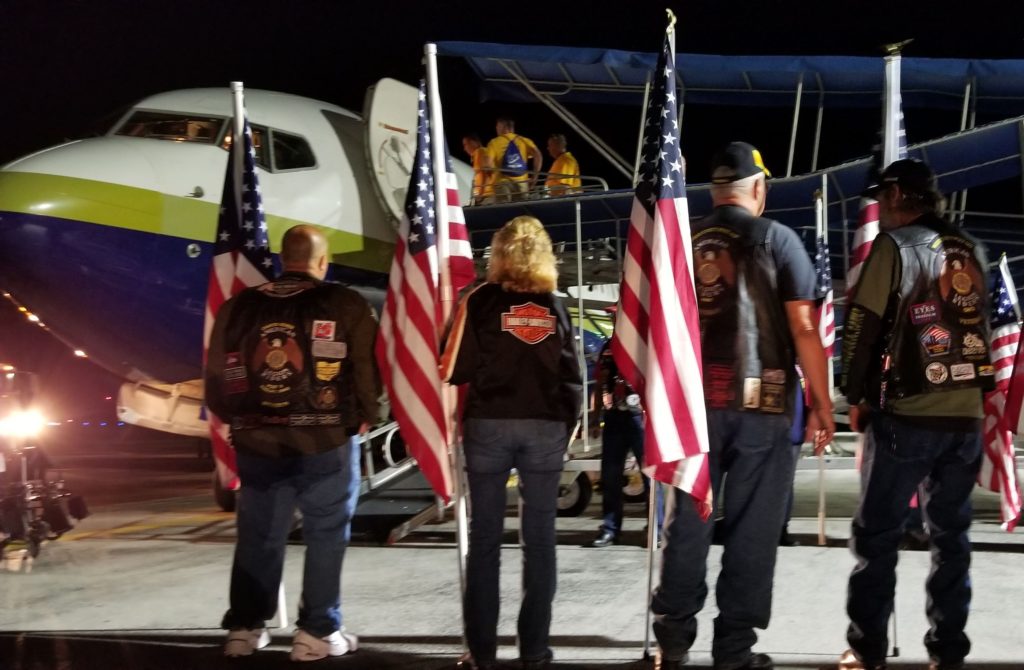 Live patriotic music also greeted the Vets as they were escorted down the crew stairs, all the while completely unaware that Grand Aire's hangar was filled with roughly 1,000+ family members, friends, volunteers and general supporters from the community welcoming them back home.  
At the end of the long but worthwhile day, lots of smiles had been shared and more than a few tears shed.  Thanks to the tireless efforts of the FCHF volunteers, one more group of Veterans were able to share in the experience of the D.C. war memorials and receive the heroes' welcome they so deserve. 
Mission #17 Vets
Veterans for the Flag City Honor Flight come from northwest Ohio, southeast Michigan and northeast Indiana.  Among the many in this group were WWII Vets Claude Campbell and Ennis Pratcher, along with the three Day brothers, who served in Vietnam as members of the U.S. Navy Seabees (Naval Construction Battalions) and all currently reside in Wood County, Ohio.  Also present was Mr. Doug McCracken from Bloomdale, OH and his longtime friend and battle buddy, Mr. Chet Holtgreven, from Findlay, OH.  This special pair grew up, enlisted, trained, deployed and returned home together.  How appropriate that they were able to travel side by side to visit the memorials that pay tribute to their military service and the sacrifices all Veterans made for America's freedom.
One Incredible Program
The Veterans pay nothing for their trip, as FCHF is a 100% non-profit organization, fully staffed by volunteers.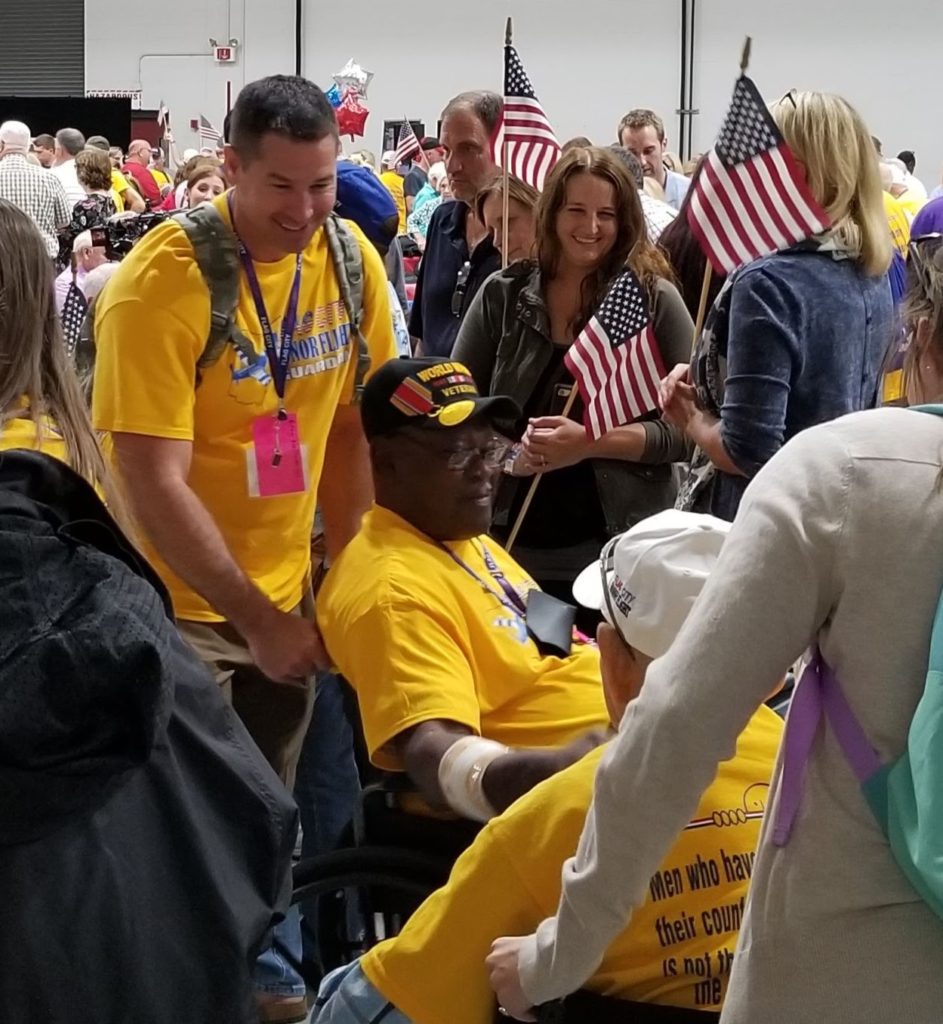 All visits to Washington are made possible by public fundraisers, sponsorships and donations from corporations, local businesses, schools, churches, other organizations and individuals.
Anyone who has served in the military is eligible for this admirable program.  This includes Vets from all military branches:  Army, Navy, Air Force, Marines and Coast Guard.  For more information on Flag City Honor Flight or to make an online donation, visit their website.
Grand Aire is proud to have lent our support to FCHF for the past 8 years and look forward to assisting with many more flights.  As a Full Service FBO, we are staffed 24/7/365 and offer an extensive list of amenities and services.  We are confident we can accommodate your needs as well.  Have questions?  Contact our team directly via email at fbo-lineservice@grandaire.com or give us a call at 1-800-70-GRAND