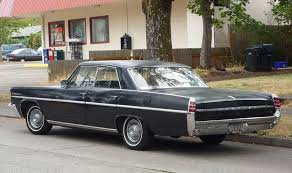 THE 1960'S AND '70'S
Summer would not be complete without my childhood memories of the family loading up to head out on vacations from LA (lower Alabama).   Whenever we traveled, somehow us 4 sisters managed to wedge into the back seat of our 4-door, midnight blue, 1963 Pontiac Catalina land yacht, complete with Venetian blinds in the rear windshield, that constantly fluttered up and down with every bump in the road.  Being the baby in the family, I often ended up getting stuck having to sit (miserably) in-between Daddy and Mama, in a cloud of cigarette smoke from Daddy smoking those short, unfiltered Camel cigarettes, while Mama sat reading a book wearing her best Hollywood style sunglasses.  The "brown water jug with the silver cap" was kept strategically at her feet to dole out water whenever the back-seat wanking got too intense, as Daddy never stopped until we got there…. or so it seemed.  The huge trunk was full of our suitcases packed with our very best clothes, which had been neatly ironed and folded, although a large portion of the trunk contained what was equivalent to a small traveling auto repair shop that Daddy brought along—just in case.  So, off we would go!
Despite not having much when growing up, but also not knowing or caring that we did not have much, my parents still managed to save enough money to take us on several vacations.  Mostly, we went to visit relatives, even as far as Nebraska and Galveston, Texas, but we also traveled a couple of times to the Great Smokey Mountains.  Once we even visited Disney World, and saw all the Florida attractions too—I was a teenager by that time.  I have fond memories of those vacations, and I believe that summertime fun and activities did as much to shape me, as did the previous 9 months of schooling.  In my opinion, God even likes the season of summer best, because He made the daylight hours linger to just about bedtime, in order to make sure we could enjoy every little bit of it! 
SUMMER OF 2019
Fast forwarding to the summer of 2019—things are much different now than they were back in the 1960's and early 70's, but summer comes with just as much anticipation and hope for fun times and making great memories as it did in the past.  So, how are you going to celebrate the best season of the year?  Maybe you should go have yourself a whirlwind weekend!  Blaze some new trails; travel back in time and visit some historic sites—or even the Amish—they are historic!  Do something out of the ordinary; be a weekend wanderer!  Why not watch some spectacular fireworks for the 4th?  Head out to the county fair or go camping or glamping! Dip your toes in the glittering water of one of the many lakes or rivers easily found throughout the Midwest. If you want to have a real summer adventure, climb the Sleeping Bear Sand Dunes—all of them—so  you can stand there gasping from exhaustion having finally arrived at the shoreline of beautiful Lake Michigan…then you could go on a wine tour to wind down (and stop at Wine Flight in Elmore, Ohio).  Play some ball; take a summer stroll with the one you love; watch a great thunderstorm; go fishing; bite into a fresh tomato just picked off the vine—the possibilities for summer adventures are endless.
Perhaps you just want to take it easy by sitting and moving your favorite chair from the front porch to the back porch for a change of scenery, while you watch the cotton from the cottonwood tree blow past, and smell the sweet fragrance of freshly cut grass lingering in the air.  Regardless of what you do, strive to have a memorable 92 days of summer!  As for me, I am going in search of a now antique, 4 door, midnight blue, 1963 Pontiac Catalina land yacht, equipped with Venetian blinds in the rear windshield… 
-Katrina Cheema