Last Mile Delivery: Getting Your Product Into the Hands of the Customer
So, you've successfully manufactured your product and had it transported to a freight hub.  Now it's sitting on their loading dock, waiting to reach its ultimate destination.  From first mile to last mile delivery, this final step in the shipping process, though often the shortest part, is the most important one to ensure customer satisfaction.
Last Mile Delivery
This last leg of the shipping process, called last mile delivery, refers to the transportation of packages from the hub or fulfillment center to the end consumer.  While simply named, this step carries a huge amount of importance.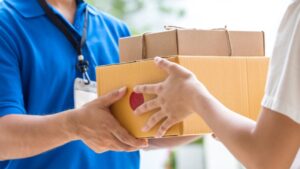 With ecommerce sales continually climbing upward, the demand for fast and accurate shipping is also on the rise.  In fact, today's consumer expects it.  For retailers to succeed, it is essential to meet these expectations and thus provide a positive shopping experience. 
The challenge?  Delivering packages quickly, but also as cost-effective as possible.  Last mile delivery can be the most inefficient and expensive part of the shipping process.  Customer loyalty is built through customer satisfaction.  If products aren't arriving as promptly as expected or shipping fees are too high, customers will begin looking elsewhere.
Last Mile Carriers
Delivery companies that transport packages from the hub to the consumer are known as last mile carriers.  UPS, FedEx, USPS and DHL are the most common examples.  There are many more, less-known last mile carriers that specialize in delivering smaller freight in more localized areas.    
Challenges for Last Mile Carriers
Regardless of the size of their fleet, all last mile carriers face obstacles in their quest to get packages to customers.  Absent recipients are one example.  While most deliveries can be left at a business or residence, others require a signature.  If no one is present at the time of delivery, the carrier is unable to leave the package and must return on another day or time.  This dilemma increases the cost of the original shipment. 
Inefficient routes can be costly as well.  Heavy traffic or road construction can greatly delay delivery, thus lengthening the shift for the driver and increasing fuel consumption.  In rural areas, the distance driven from one address to another increases the amount of gas used and the time it takes to complete a single route.
Popular Solutions
To overcome these last mile delivery difficulties, many last mile carriers turn to USPS for the final leg.  While UPS and FedEx will transport packages hundreds or thousands of miles from their original location, they'll rely on USPS to deliver directly to the customer.  This solution seems logical since USPS has residential routes already established and visited daily. 
Technology advancements are also coming into play with last mile delivery efficiency.  Ever-improving software can alert drivers to congested traffic conditions or construction areas and allow them to alter their route before it becomes an issue.  There are even mobile applications that enable dispatchers to make necessary route adjustments due to staffing issues or equipment failures. 
Prior to Last Mile Delivery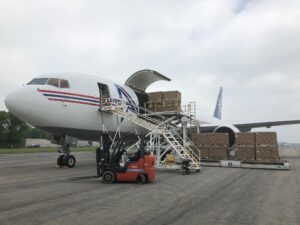 Looking for transportation options to get your product en route to the last mile carrier?  We can help.  Grand Aire has been a leading air and ground logistics management company for over 35 years.  Based at KTOL, we offer air charter, air freight (NFO), hand carry, as well as expedited trucking options. 
Our dispatchers are accessible 24/7/365 to provide you with reliable transportation choices that fit your needs.  Additionally, our full-service FBO stands ready for cargo on-loads and off-loads any day or night.
We take our part in the supply chain management system very seriously.  We are dedicated to the successful shipment of every package and pallet, from first mile delivery to the very last mile.
Let us put our experience and expertise to work for you.  Give us a call at 1-800-70-GRAND or email our team at logistics@grandaire.com.